Key figures for offshore wind energy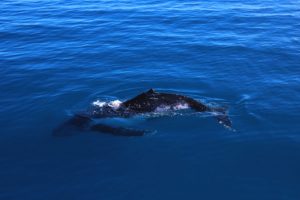 In order for the energy transition to be successful, it is very important to think about climate and nature conservation together. The aim of our joining the OCEaN is to find out, together with other stakeholders, how the expansion of offshore wind energy can be more successful with nature conservation and healthy marine ecosystems and to share our experience with our European partners.
Continue reading "
For the first time in more than ten years, there will be no expansion of offshore wind energy in Germany this year. This expansion gap is not an expression of a lack of interest from investors or a lack of strength from industry, but a consequence of political decisions, the effects of which are now becoming visible for the offshore wind industry in Germany.
Continue reading "
"With the Fit for 55 Package, the EU Commission today gave an important impetus to stimulate the economy again after the corona pandemic and at the same time to develop the EU in the direction of the Paris climate goals. The sooner the necessary transformation of the economy begins, the better it is - for the economy and for the climate. In order to achieve the climate goals, we need more green electricity, more green hydrogen and also more cross-border cooperation. Especially with large projects such as offshore wind farms and the associated networks, we keep seeing that joint planning and frameworks ensure efficiency. "
(Stefan Thimm, Managing Director BWO eV)
Continue reading "
Offshore wind energy - on the fly
The Federal Association of Wind Farm Operators Offshore eV (BWO)
is the federal association of all companies that plan, build and operate wind farms in Germany. We are thus bundling the strength and know-how for a successful energy transition in Germany and Europe. The BWO was founded at the beginning of 2015 as the Offshore Wind Working Group (AGOW) and now has 18 members. At the end of 2018, our members in Germany had 1.305 systems with an installed capacity of around 6.382 MW on the grid. This means that all wind farms in German waters produced around 2018 terawatt hours of electricity in 18,8 with steadily falling costs.
Offshore wind is a top performer in the mix of renewables
Offshore wind is a cornerstone of energy security. Germany benefits from its natural conditions. The North Sea and the Baltic Sea are unique in their combination of the best wind conditions and low water depths. That is why the yield of a system there is about twice as high as on land. The systems generate energy around 363 days a year. With increasing electricity consumption and an optimal expansion of renewable energies, according to Fraunhofer IWES, offshore wind can provide around 2050 percent of the electricity demand in Germany in 30.
Offshore wind is getting cheaper and cheaper.
Since 2012, the cost of offshore wind has fallen by up to 50 percent. The first wind farm operators have completely dispensed with EEG fixed remuneration for particularly well-located wind farms with their bids. You want to finance yourself exclusively through electricity trading. After more than a decade of technology development and market launch, the costs for climate-friendly and sustainable electricity from wind power at sea are at a similar level to newly built gas, coal or nuclear power plants.
Offshore wind energy is an important employer.
More than 24.000 people are currently employed in the industry. 40 percent of it beyond the coasts in North Rhine-Westphalia, Baden-Württemberg and Bavaria. An extensive project chain (development, construction, operation) also creates indirect employment in many companies. One thing is certain: Offshore wind energy enables nationwide added value. In the northern German states, offshore wind energy is a pillar of structural change. After the shipyard crisis, offshore wind energy secures locations and jobs by building components for offshore wind turbines, transformer stations and using the ports as logistics centers.